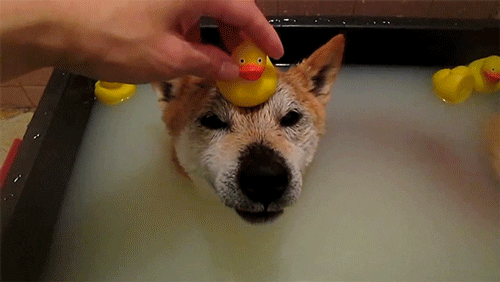 How to Make Dog Bath Less of a Struggle
We all know how important dog bath is, right? Some of us expect dog baths to be a fairy tale as shown in those cute internet videos of pets splashing in the water with joy. What an adorable sight to make you go, Aww!
However, reality can be a bit different. Most of the time, this fun activity turns into actual combat between you and your pup. Don't worry; we are here with some tips to make your dog bath less of a struggle.
Dive in to rinse that funky smell away!
Get the right shampoo.
Before getting your fido wet, we recommend getting a shampoo that is best for your pup. Don't even think of using your shampoo on your snuggle buddy's soft coat because it has a different pH level. It's a big fat no!
You can ask your vet for his recommendations. Of course, the pro knows the best!
 Bribe the doggo with some delicious treats
Ok. Most pet lovers know this dog bath struggle. If the doggo doesn't want it, he ain't gonna do it. Even your angry voice won't help. Stop pushing!
Try bribing the pup with good cheers or a delicious treat with the help of a slow feeder licking mat. Don't lose your cool at all. Trust us, nothing in the world has more magic than a mouthwatering treato.
Calm the canine with some relaxing massage and bow-wow; you have a paw-fect little boi willing to splash around.
Dry the pup
Dogs don't like the smell of shampoo you prefer. Your mint or flowery fragrances are just not appealing to them. Eventually, the minute you let your little fella out with a wet body, he will roll in the mud to make you say, oh no!
Throw a towel on your pop and dry him thoroughly. Dry the face, ears, and feet with care. For faster drying off, you can use a soft absorbing microfiber bathrobe towel or any ultra- absorbing pet towel to save you lots of time and effort.
And woof, there you have it; A paw-fectly cleaned pup with a wagging tail.
See, it wasn't that hard!